Y
aas is located 181 km southwest of Kolkata, India, and has moved northwestward at 11 km/h (6 knots) over the past 6 hours. Satellite imagery shows the convective structure now moving over land and beginning the decaying process as it transits over the rugged terrain. The initial position is placed with high confidence based on the LLCC feature in the composite weather radar from Paradip, India, and analysis of local weather observations.
Analysis shows Yaas resides under weaker poleward outflow aloft and strong wind shear (30-35 knots), contributing to the rapid decay as the storm dissipating in 24 hours. Forecast guidance are in fair agreement with a cross-track spread of 54 km at 12 hours due to the far sole right outlier of AFUM. The model spread widens to 122 km with AFUM in 24 hours or 54 km without, lending overall high confidence to the JTWC forecast track that is laid just to the left of the model consensus to offset AFUM.
This is the final warning on this system by JTWC. The system will be closely monitored for signs of regeneration.
Information provided by the Joint Typhoon Warning Center (JTWC).
Modification Time: 09:00 May 26, 2021 UTC
Possible route of Yaas with Visuals:
Scroll below to see
Live updates of YAAS
Prime Minister Narendra Modi reviews post-cyclone situation in Odisha with CM Naveen Patnaik, Union ministers Dharmendra Pradhan and Pratap Sarangi.
PM Narendra Modi - Mamata Banerjee review meet today at Kalaikunda on Yaas destruction.
Three ships of the Indian Coast Guard (ICG) were approaching the coasts of West Bengal and Odisha to do "situational assessment" after Cyclone Yaas hit these shores on Wednesday morning, the Defence Ministry said.
Deep Depression over south Jharkhand & adjoining north interior Odisha moved northwestwards with about 07 kmph during past 6 hours & lay centred at 0530 hrs of May 27 over south Jharkhand & neighbourhood, about 70km west-southwest of Jamshedpur & 70 km south south-east of Ranchi: IMD
High alert in Jharkhand, continued evacuating low-lying areas on Wednesday amid the forecast that cyclone Yaas would be hitting the state by midnight after pounding neighbouring Odisha and West Bengal, officials said.
Cyclone Yaas immerses large places of Bengal's seaside areas.
Rising river water levels due to the landfall of cyclone 'Yaas' have inundated large parts of West Bengal's coastal districts of Purba Medinipur and South 24 Parganas on Wednesday, as sea waves were seen touching coconut tree-tops and cars floating in floodwaters. The seaside towns of Digha and Mandarmoni in Purba Medinipur and Fraserganj and Gosaba in South 24 Parganas were among the areas affected by a storm surge of more than 2 metres above the astronomical tide level. (PTI)
West Bengal expected to receive isolated heavy to very heavy rainfall today. Jharkhand will receive heavy to very heavy rainfall today and tomorrow with extremely heavy rainfall in isolated places: IMD DG Mrutyunjay Mohapatra said.
At least six flights between Mumbai to Bhubaneshwar have been cancelled in view of Cyclone Yaas, Mumbai Airport PRO said on Wednesday.
Cyclone Yaas began the landfall process at 9 am. It is expected to cross north of Dhamra and south of Bahanaga, which is around 50 km from Balasore, as a 'very severe cyclonic storm' with 130-140 km per hour winds and 150 km per hour gusts. Earlier, 185 km per hour winds were predicted, but this was revised after Yaas failed to intensify past 2 am.
"Yaas" is very likely to make landfall between Dhamra Port and Balasore on the Odisha coast Tuesday noon, with wind speed of upto 185 km per hour. It is expected to pass over Bengal too. Neighbouring Jharkhand has also sounded an alert and is preparing for the cyclone's impact.
Highest-Ever Number Of Disaster Response Teams For Odisha, Bengal
The National Disaster Response Force (NDRF) has earmarked its highest-ever number of teams for deployment in Odisha and West Bengal as part of its preparations for the impending cyclone Yaas, a senior officer said on Tuesday.
The federal contingency force has committed a total of 112 teams for deployment in five states and the Union Territory of Andaman and Nicobar Islands which are expected to be affected by the cyclone developing in the Bay of Bengal. Out of these, the highest the number of 52 teams are designated for Odisha followed by 45 teams for West Bengal.
The Kolkata airport authorities today said that in view of the weather warning by IMD, flight operations at Kolkata airport will be suspended from 8:30 am till 7:45 pm on May 26.The Kolkata airport authorities said arrow bridges are being locked, while high-mast lamps are being uninstalled. The Airports Authority of India (AAI) on Monday said flight operations at Bhubaneswar, Kolkata, Jharsuguda and Durgapur airports are likely to be hit due to cyclone Yaas, while instructing other airports in the eastern region to be on alert in view of a possibility of change in path of cyclonic winds.
"It is very likely to cross north Odisha-West Bengal coasts between Paradip and Sagar Islands close to north of Dhamra and south of Balasore, during noon of Wednesday, the 26th May as a Very Severe Cyclonic Storm," the Cyclone Warning Division of the IMD said.
We are expecting wind speeds of 150-160 kmph gusting 180kmph over Jagatsinghpur, Kendrapara, Bhadrak and Balasore tomorrow as landfall is expected by noon. We have issued the highest danger warning for Dhamra and Paradip ports. - IMD regional deputy director, Bhubaneswar.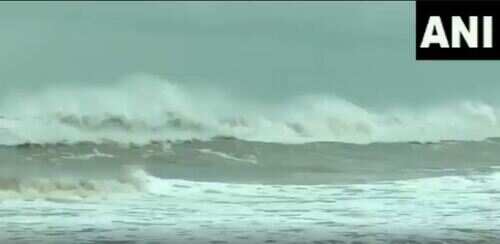 West Bengal: Ham operators to assist administration in Cyclone Yaas relief and rescue work
A team of ham radio operators of the West Bengal Radio Club (Amateur Club) has been involved by the South 24 Parganas district administration's disaster management section to assist the district administration in relief and rescue work.
Cyclone Yaas, now located around 520km south-southeast of Paradip, is very likely to intensify further into severe cyclonic storm during the next 12 hrs, and in subsequent 24 hrs, it will intensify into very severe cyclonic storm: IMD-Bhubaneswar (ANI)